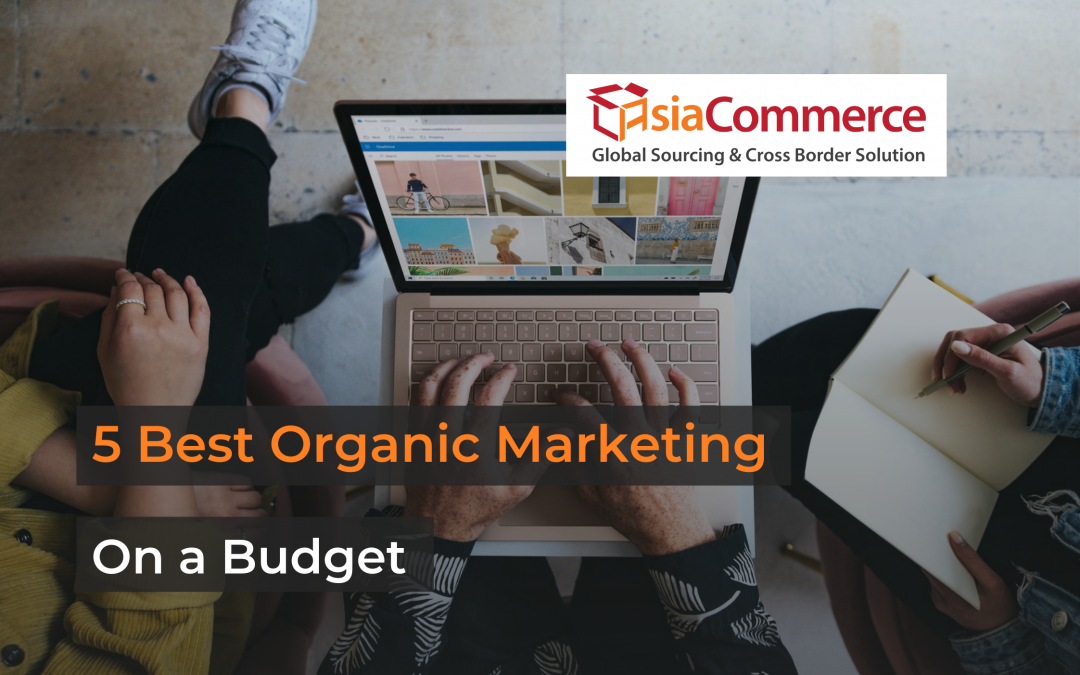 Marketing is always a complicated thing to do for businesses. Sometimes it can be easy and sometimes it can be very hard to do. There are also ways to pay for marketing and then sometimes word spreads organically. Different marketing approaches will have different effectiveness. Organic marketing will typically be more effective and lasting than a paid marketing approach. However, organic marketing strategies are often difficult and need a lot of effort. Luckily, with the ubiquity of the internet, there are budget strategies to achieve organic marketing.
What is Organic Marketing?
Organic marketing is essentially anything outside of the typically paid strategies. This does not mean it is cheap because it is still going to cost money and effort. Its price comes from the randomness of organic marketing. You can never know what works until you try it and that is why it still costs money. Organic marketing generates free traffic into your business. Usually, simple tactics work, but you have to try a lot of things before you can determine which method works best. Organic marketing is usually more robust and effective.
Great examples of organic marketing would be holding workshops that integrate your product or business. People will get value from this event and may be attracted to your business. However, the workshop itself is not a marketing strategy, it is an actual event or even a product. These kinds of things get people talking and therefore develop a more organic type of marketing.
What will you need for effective organic marketing?
Organic will not work with just any business and product. There are requirements that need to be met for it to work.
1. The first thing is a unique and interesting product. Having an interesting product will help a lot since people often talk about interesting products. Having a successful product will definitely help a lot with organic marketing.
2. A clear target audience that fits your business. You need to know who your audience is and what will attract their attention. This way you can tailor your plans and strategies to target your audience more effectively.
3. Great product description and enticing copywriting on your product page. This is so that your viewers or bystanders can be converted into customers. What good is a great marketing strategy if it does not increase customers to your business?
These are the 3 things that you will need to have an effective organic marketing strategy. If you noticed, these things are fairly easy to get. This is because these things are only the foundation to a great organic marketing plan. You will need great strategies for organic marketing.
Organic Marketing Strategies
Now is the part where we will be discussing the strategies you can employ to have effective organic marketing. In essence, organic marketing will utilize anything outside of the typical aid marketing tactics to gain traffic. However, since we are on a budget, we will have to be creative.
1 Create a Blog about your field of business
A blog is one of the easiest and simplest strategies to do. You can create blogs that have topics about the products you are selling. This can range from product reviews, news, education, and many more. However, the hard part about blogs is that standing out amongst the competitors is very hard. There are already millions of other blogs out there. But if you can make an interesting and engaging blog, it will be effective.
2 Make video content on your products
Making video content will be very useful in organic marketing. Many people use videos before they purchase products. Consumers these days usually do research before they purchase. Making content that facilitates research for consumers makes it easy for you to attract them to your business. However, video content may be hard to do since you would need to shoot and edit. But you can also post videos on Instagram or Tiktok where it is significantly easier to make videos since all you would need is a smartphone.
3 Organic social media strategies
Making content and having a presence on social media would be a great idea. Not only is it easy to do, but the reach will also be very high as well. A large part of the population in many countries uses social media. The things you can do are giveaways, competitions, discounts, and more. In addition, many social media sites have a built-in e-commerce feature. This means that you can easily integrate your social media with your business.
4 Great SEO
Discoverability is important for organic marketing. Unlike typical paid marketing, you won't have a priority placement on platforms and services. You will have to tailor your content to be compatible with the search engine. This is called SEO or search engine optimization. With great SEO your content and business will show up more frequently and more prominently when a consumer searches for something. There are many ways to do this, the most common is using the right keywords or tags.
5 Strategic partnerships
Lastly would be about strategic partnerships. This means that you should try and collaborate with other businesses or influencers. This won't be like the typically paid sponsorships, you should find a mutual benefit. You can partner with a business that offers a service or augmented product that can add value to your business. In addition, customers from your partner may be attracted to your business and vice versa. This leads to great organic marketing and more value for you.
So that is how we would do organic marketing. There are so many ways to attract new consumers. Marketing that is done organically is a great way to expand your business and grow. However, what about the other parts of your business like procurement or logistics? AsiaCommerce is here to help. We offer services that range from export imports, procurement and sourcing, logistics, and forwarding. We can help with reselling, sourcing, and dropshipping. In addition, we offer extensive educational content that can help you develop your business skills. Check out our many services and gain many awesome benefits for your business!